Stan's Cafe (UK): Of All The People In All The World
Tuesday 27.10.     13.00 – 19.00
Wednesday 28.10.     13.00 – 19.00
Thursday 29.10.     13.00 – 19.00
Friday 30.10.     10.00 – 14.00
Kuopio City Library | Maaherrankatu 12
Accessible Event
Of All The People In All The World offers a grain of truth about our planet: every grain of rice represents someone, somewhere.
For this beautifully simple performance installation, the artists build a landscape of rice piles counting out political and social realities, here in Kuopio and around the world: climate protesters, Black Lives Matter demonstrators, farmers in Finland now and 100 years ago, the people who attended the Kuopio SATOA festival, nurses in Finland, people who have walked on the moon, Valtteri Bottas and his pit stop team.
ANTI Festival is delighted to bring the internationally acclaimed Of All The People In All The World to Finland for the first time. By making normally abstract statistics tangible and placing them in thoughtful relation to each other, this powerful work of art is witty, shocking and ultimately moving.
Come and find yourself.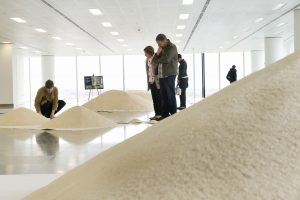 Safe festival experience
Please follow our general instructions for a Corona safe festival experience!