14.5.2020 - 31.5.2021
Global City Local City is a new international laboratory platform – initiated as a collaboration between ANTI – Contemporary Art Festival in Kuopio, Finland, Reykjavík Dance Festival in Iceland and The Map Consortium in the United Kingdom. The project is coordinated by ANTI Festival, and it will run from May 2020 till May 2021.
The GCLC labs are an initiative aimed at bringing together artists and curators whose work centers upon hyper-localised or locally-responsive approaches to place. Art workers whose work perhaps relies upon the initiation of local collaborations, responds to local sites, or engages with local histories, situations or conditions.
The GCLC labs will be a platform for art making through experimentation, research and knowledge sharing – a platform for a community to gather and share experiences, approaches, questions and perspectives in relation to the making of hyper-localised locally-responsive work. The lab time will be divided up between artists and curators engaging in their own work and engaging in situations that facilitate dialogue and exchange.
Partially developed in response to the current mobility challenges – caused by the global pandemic – the lab will support artists and curators to participate remotely from their own base location. Particular formats and approaches will facilitate exchange between participants under these conditions – and special focus will be placed on how these emerging conditions are affecting the nature of their work.
The first Global City Local City Lab was organised in Kuopio between 20th and 31st October 2020, in the context of ANTI - Contemporary Art Festival. The second lab will be organised in Reykjavík between 8th and 18th April 2021.
The lab participants for the both labs were selected through an open call in September 2020.
Lab Artists & Curators
Based in Festival Centre, Kuopio, 20-31 Oct 2020:
Emma Fält, Kuopio, Finland
Henna Kaikula, Bromarv, Finland
Anna Nykyri, Helsinki, Finland
Päivi Savolainen, Kuopio, Finland
Connecting from their international locations, 20-31 Oct 2020:
Sean O'Brien, Reykjavík, Iceland
Cat Bagg (Field Notes), United Kingdom
Ding Yun Huang, Taiwan
Glyn Roberts, Castlemaine, Australia
Chris Higgins and Martin Gent from The Map Consortium facilitated the lab remotely from Hastings, UK.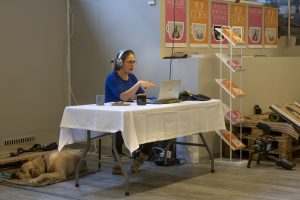 Based in Reykjavík, 8-18 April 2021:
Wiola Ujazdowska
Gígja Jónsdóttir
Nína Hjálmarsdóttir
Erik DeLuca - Reykjavík
Andrea Vilhjálmsdóttir
Connecting from their international locations, 8-18 April 2021:
Rima Najdi, Berlin, Germany
Chiara Organtini, Terni, Italy
Taija Jyrkäs, Oulu, Finland
Tiina Pehkonen, Kainuu, Finland
Anna-Maria Väisänen, Kuopio, Finland
Erin Boberg Doughton, Portland, US
Subashini Ganesan, Portland, US
The Reykjavík lab is hosted by the Reykjavík Dance Festival, and facilitated by
Chris Higgins, Martin Gent and Karen Da Silva from The Map Consortium.
Supported by
Global City Local City project is supported by the Nordic Culture of Ministers via the Nordic Culture Point, the Icelandic-Finnish Cultural Foundation and the Finnish Cultural Foundation, Pohjois-Savo.