Loren Kronemyer (AU): After Erika Eiffel
Tuesday 10.9.  14.00-17.00
Wednesday 11.9.  14.00-17.00
Thursday 12.9.  14.00-17.00
Friday 13.9.  14.00-17.00
Saturday 14.9.  12.00-16.00
Sunday 15.9.  12.00-16.00
Puijo archery field | Suurmäentie 85, Kuopio
RESERVE YOUR SEAT
After Erika Eiffel is the story of a tool with the power to pierce straight to the heart. This immersive work invites you to discover the startling intimacy and potent sensation of firing an arrow. Archery is a sport that demands patience and sensitivity. As you gradually hone your aim on a solo journey through a customized 16-target archery course, you become aware of the intense relationship between your body and the deadly bow. When you attune yourself to the object through your senses, you are rewarded by the rush of pleasure that comes from hitting the target.
As you venture deeper along the archery trail, the targets reveal the story of Erika Eiffel, a world class archer who attributed her career success to the fact that she had a long-term romance with her bow. What does it feel like to have a lethal weapon as the love of your life? Draw, aim, and release your inhibitions to discover a new relationship with a delicate and dangerous thing. In a world After Erika Eiffel, we can discover what it means to treat objects like people instead of people like objects.
This event is outdoors, so please dress for the weather, including sturdy non slip protective shoes.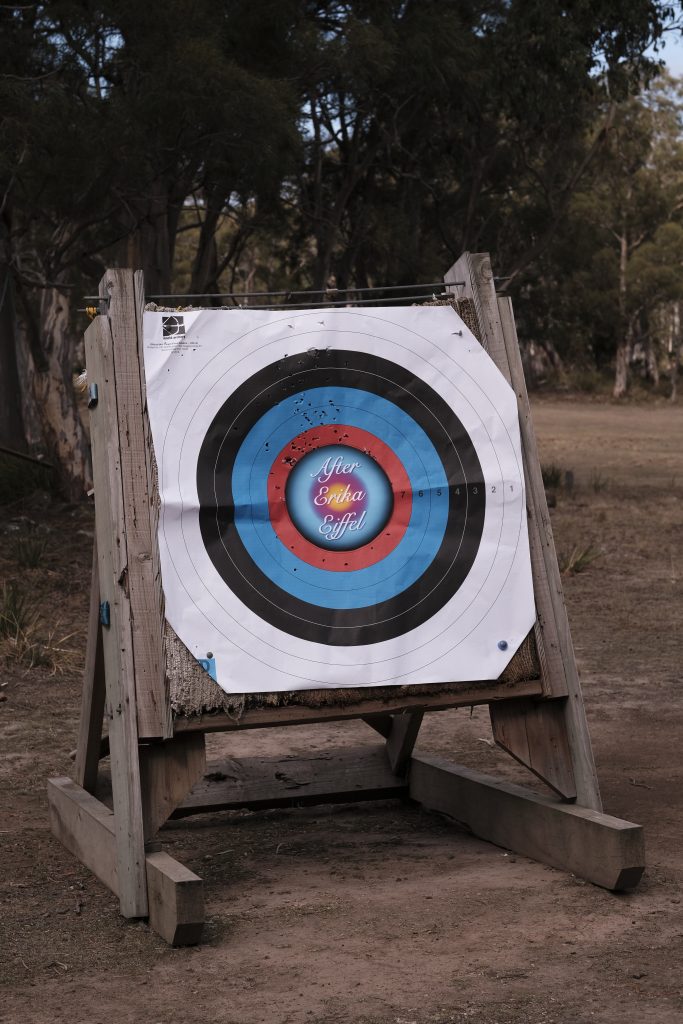 Loren Kronemyer is an artist living and working in remote lutruwita (Tasmania), Australia. Her works span interactive and live performance, experimental media art, and large-scale worldbuilding projects aimed at exploring ecological futures and survival skills. In 2016, her collaboration Pony Express created Ecosexual Bathhouse, a touring queer sex club for the entire ecosystem. In 2017, Kronemyer was the first artist in residence at the International Centre for Radio Astronomy Research, creating the project Receiver at the world's largest radio telescope. She collaborates frequently with laboratories, and received the first Masters of Biological Arts Degree from SymbioticA Lab at the University of Western Australia.
Her work has been hosted by Santarcangelo Festival (Italy), Forum of the Future (Portugal), Interformat Symposium (Lithuania), Dark Mofo (Australia), Liveworks Festival (Australia), Next Wave Festival (Australia), The Perth Institute for Contemporary Art, The Perth International Arts Festival, The Australian Centre for Photography, The School of Visual Art (New York), and the International Symposium of Electronic Arts. She is a mentor for the Icelandic Academy of Arts Masters of Performing Arts Program, and a PhD Candidate at the University of Tasmania.
After Erika Eiffel has been developed through Situate Art in Festivals, A Salamanca Art Centre program, and supported by The Australia Council for the Arts.
Graphic Design: Kaarina Tammisto.