Dana Michel (CA): Mercurial George
Saturday 14.9.  14.00
Sotku teatteri | Suokatu 42, Kuopio
Accessible Event
Performance is part of Shortlist LIVE! and nominated for the ANTI Festival International Prize for Live Art Award.
RESERVE YOUR SEAT
In the wake of the acclaimed Yellow Towel, Mercurial George traces and transforms the banal, provoking a certain malaise. Sifting through the heaps of dusty clues leftover in the wake of initializing a cultural excavation, Dana Michel offers a destabilizing solo. The body vacillates as it struggles for balance and a toehold. Stretching out time with minimalist and deconstructed movement, Michel becomes the archeologist of her own persona.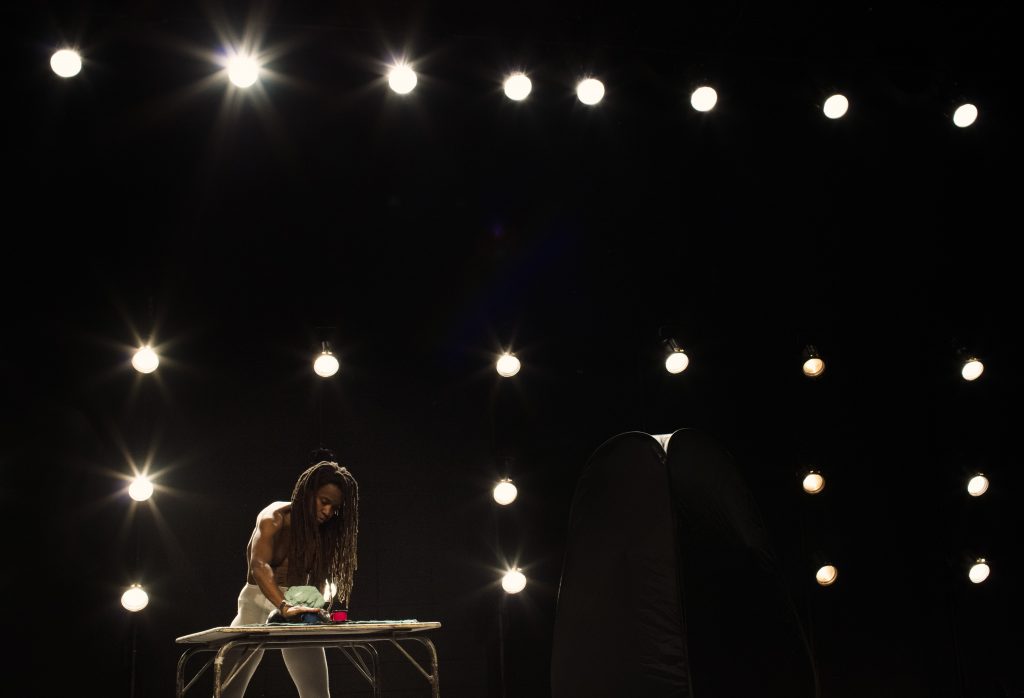 "I only just got a bit of dirt under the nails with the last thing. Now wading through the hairy rubble of a preliminary anthropological dig. So much debris! I couldn't have predicted how much debris there would be and how much work I had created for myself in waking this beast. But they needed waking. I have seen the eyes and I'm circling, skipping, daintily lifting limbs and sniffing its scent. What is the smell of a plethora of someones that you have been avoiding your whole life? What do you do with the body? This is another science experiment. This is another ground on which to test skins that belong to me, outfits and ideas that may or may not have been imposed." –Dana Michel
Duration: one hour.
Artistic advisor: Heidi Louis.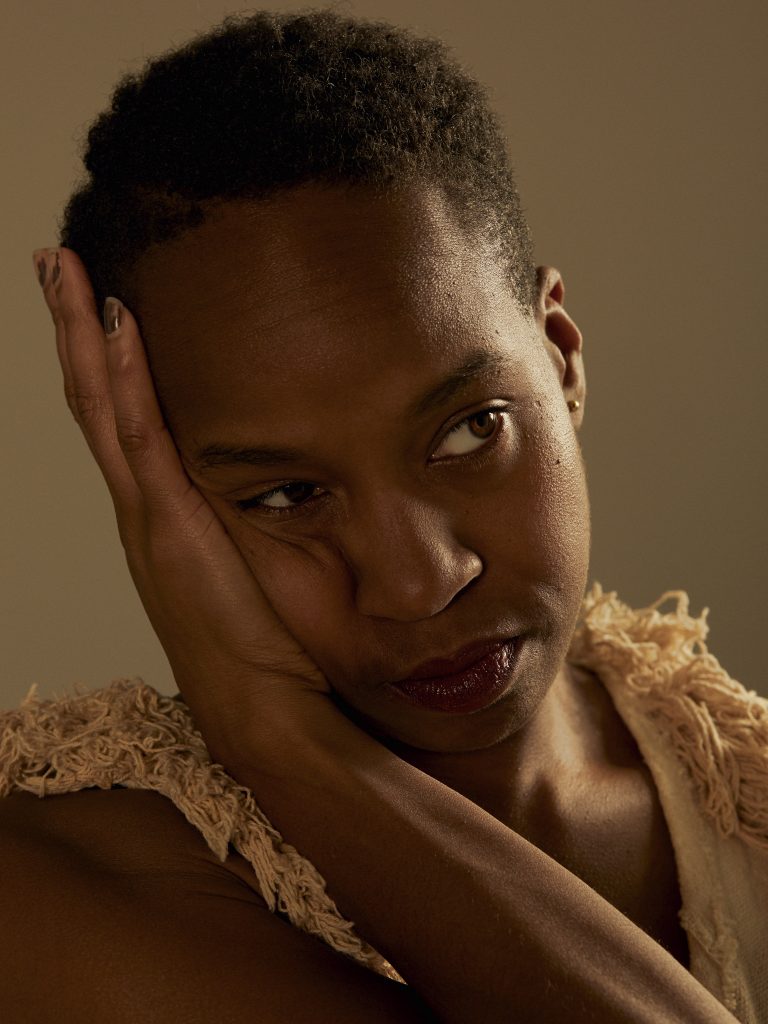 An amalgam of intuitive improvisation, choreography, and performance art, Dana Michel's artistic practice is rooted in exploring the multiplicity of identity. Michel works with notions of performative alchemy and lucid dreaming – using personal history, current preoccupations, and future desires to create an empathetic centrifuge of live moments between herself and witnesses.Today, her work can be described by some of its influences and inhabitations: sculpture, cinematography, comedy, hip-hop, psychology, dub, and social commentary.
In research, Michel alternates between the work that takes place in and out of the studio. After pouring over a subject via writing, reading, video, and discussion she relaxes her focus and let the body take over. "I feed myself with sound, silence, and dissonance – at times over-stuffing my body and psyche with stimulation to encounter its response. Then, minute details pop into my kinetic vision. They manifest movements, resonations, colours, textures, and certain experiences of light. These details clarify the trajectory of the work."
"Using difficulty as a navigational methodology comes naturally and coerces my performances into places of emergency and vulnerability. This is where I am able to listen at closest range, and to share with the least hesitation. Thinking about beings as mathematical proofs or portals, made up of billions of possibilities, deepens this listening."
Dana Michel is associate artist of Par B.L.eux.
dana-michel.com
vimeo.com/danamichel
facebook.com/DanaMichelOfficial/
Par B.L.eux:
parbleux.qc.ca
facebook.com/parbleux/