W A U H A U S (FI): Flashdance
Friday 30.10.     21.00
Lumit, Kuopio Senior High School of Arts | Minna Canthin katu 46
Accessible Event
The work is part of Shortlist LIVE! and nominated for the ANTI Festival International Prize for Live Art Award.
Flashdance is a performance where darkness materializes into sculptural landscapes and forms impossible for the human body. The audience is faced with their limited ability to see and the boundless terrain of their imagination.​
When we stare at darkness, we struggle to understand what we see and what we think we see. Background and foreground begin to blend. When our perception is limited our minds begin to wander, and the unknown occupies more and more space.
In our society where illumination inevitably creates more and more self-control and light penetrates everything, darkness can open open up a path to not-knowing. From the outside, we cannot know what the inside is like, and standing in the light, we cannot see into the darkness.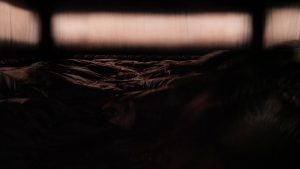 Safe festival experience
Please follow our general instructions for a Corona safe festival experience!