Cuqui Jerez (ES): The Phenomenon of Fictitious Forces
Friday 13.9. 21.30
VR Konepaja | Pohjolankatu 1, Kuopio
Accessible Event
Performance is part of Shortlist LIVE! and nominated for the ANTI Festival International Prize for Live Art Award.
He was explaining his obsession with gravity to me and then he opened the book and read something like this: The secret of flying is the following: you have to do it immediately, before your body realizes it is defying the laws. He closed the book, threw it out of the window and carried on talking. It fell so fast that I didn't have time to see what book it was. At that point a phrase from Rayuela came to mind: I'm not sleepy. I keep on seeing things in the air while you talk.
In this piece more than 10.000 objects fly entering the stage. That's it!
Duration: 50 minutes.
A piece by Cuqui Jerez
Artistic assistant: Aimar Pérez Galí
Performers in the backstage: Cuqui Jerez, Aimar Pérez Galí, Jorge Salcedo and Xavi Manubens
Technical direction, lights and space: Carlos Carpintero and Jorge Salcedo
Co-produced by: Secció Irregular, Mercat de les Flors, Barcelona
Supported by: Graner, Barcelona
Special thanks to Quim Pujol
This piece is part of The Dream Project (2013-16) by Cuqui Jerez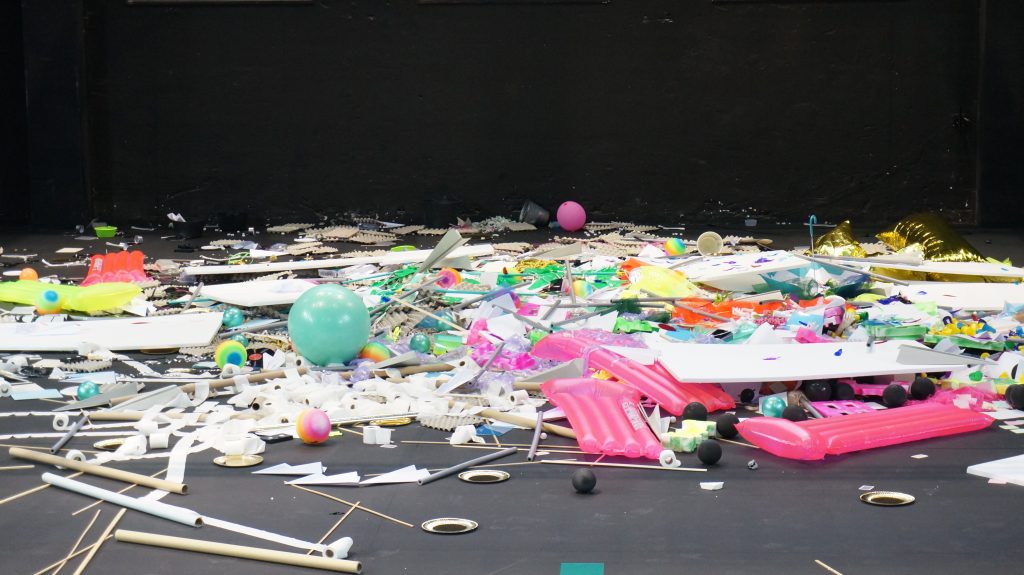 Cuqui Jerez is a Spanish choreographer and performer who lives and works in Madrid and Berlin. After working as a dancer and performer with various choreographers in Europe in the nineties, she began to develop her choreographic work in 2001. Since then has created pieces of different natures that have been presented at numerous festivals in Europe, USA and Latin America.
Cuqui Jerez describes her work as a tool to understanding the performative act. While her work entails many techniques from performance to text and even fireworks, she considers all of her practices as choreographies. She is obsessed with creating new realities and new languages through space, time, objects and bodies. According to Jerez she is focused on constructing in space, but she cannot separate space from time.
Her main activity is the creation, but she also participates in various research, curatorial, publishing and teaching projects.